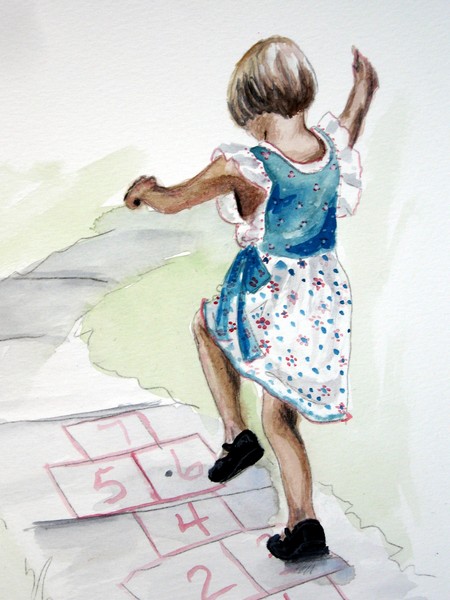 Hop Scotch Alley
By Heather
Tags: child, girl, hopscotch, painting, play, portrait, vinatge, watercolor
Category: 8" by 10", Art, For Sale, Portraits, Watercolors
Painting originally done for a website header.
An 8″ by 10″ of Essie playing hopscotch in a dress made from a vintage child's tie on top with a skirt I added because the material was so similar.  When she was younger she wore dresses all the time and loved old fashioned little girls dresses I found for her at the thrift shop and garage sales.  She and her sister also loved playing hopscotch– now they are more likely to use all the sidewalk chalk up drawing on the sidewalks and walls of the porch and making "soup" with chalk dust, leaves, and flowers.
This painting is for sale: $30.  Please contact me at gracedbychrist @ gmail . com for information.
2 Responses to "Hop Scotch Alley"